Steps to getting all Witch DiversEdit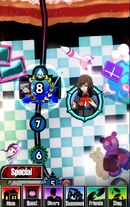 You see that Goddess? Yeah in the Top right part. 
You see how she has 6 memory slots? Here I'll label it for you
What if I told you that if you get all 6 memories, that you can get her as a diver?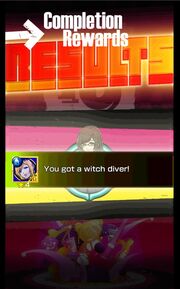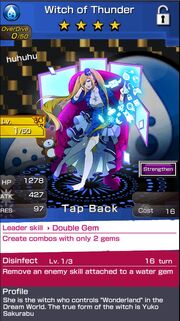 Now the only problem with getting memories is that only certain quests drop these memories. However, ALL mobs on that floor have a chance of dropping one of these Sleeping Beauty Memories. You must get all 6 to unlock the Witch divers. **Key feature is that the drop rates for these items are low - so it's a grind game, but you get a witch at the end.*
List of Stages and Witch DiversEdit
Wonder's Dream
Goddess: Yuko Sakurabe
Witch: Witch of Thunder
Piece

Stage Quest

(if there are multiple #'s it means all have chance of dropping)

1
1, 2 
2
3
3
4, 5
4
6
5
7
6
8
Candy Road
Goddess: Airi Kojima
Witch: Witch of Gluttony
| Piece | Stage Quest |
| --- | --- |
| 1 | 9, 10, 11 |
| 2 | 12 |
| 3 | 13, 14 15 |
| 4 | 16 |
| 5 | 17, 18, 19 |
| 6 | 20 |
Battle City
Goddess: Kasumi Takahashi
Witch: Witch of Wind
| Piece | Stage Quest |
| --- | --- |
| 1 | 21, 22, 23 |
| 2 | 24 |
| 3 | 25, 26, 27 |
| 4 | 28 |
| 5 | 29, 30, 31 |
| 6 | 32 |
White Lily's Castle
Goddess: Yurina Kanzaki
Witch: Witch of White Lily
| Piece | Stage Quest |
| --- | --- |
| 1 | 33, 34, 35 |
| 2 | 36 |
| 3 | 37, 38, 39 |
| 4 | 40 |
| 5 | 41, 42, 43 |
| 6 | 44 |
Club Amanda
Goddess: Senke Mitsuru
Witch: Witch of Bondage 
| Piece | Stage Quest |
| --- | --- |
| 1 | 45, 46, 47 |
| 2 | 48 |
| 3 | 49, 50, 51 |
| 4 | 52 |
| 5 | 53, 54, 55 |
| 6 | 56 |
Shout of Metal
Goddess: Yae Suzusato
Witch: Witch of Metal
| Piece | Stage Quest |
| --- | --- |
| 1 | 57, 58, 59 |
| 2 | 60 |
| 3 | 61, 62, 63 |
| 4 | 64 |
| 5 | 65, 66, 67 |
| 6 | 68 |
Danger Zone 18
Goddess: Abby Benette
Witch: Witch of Anihiliation
| Piece | Stage Quest |
| --- | --- |
| 1 | 69, 70, 71 |
| 2 | 72 |
| 3 | 73, 74, 75 |
| 4 | 76 |
| 5 | 77, 78, 79 |
| 6 | 80 |
Feelings Point
Goddess: Alexine
Witch: Witch of Steam
| Piece | Stage Quest |
| --- | --- |
| 1 | 81, 82, 83 |
| 2 | 84 |
| 3 | 85, 86, 87 |
| 4 | 88 |
| 5 | 89, 90, 91 |
| 6 | 92 |
Graffiti Wall
Goddess: Eru Himukai
Witch: Witch of Color
| Piece | Stage Quest |
| --- | --- |
| 1 | 93, 94, 95 |
| 2 | 96 |
| 3 | 97, 98, 99 |
| 4 | 100 |
| 5 | 101, 102, 103 |
| 6 | 104 |
The Prison
Goddess: Saori Jokura
Witch: Witch of Judgement
| Piece | Stage Quest |
| --- | --- |
| 1 | 105, 106, 107 |
| 2 | 108, 109, 110 |
| 3 | 111, 112, 113 |
| 4 | 114, 115, 116 |
| 5 | 117, 118, 119 |
| 6 | 120 |
Day Dream
Goddess: 
Witch: 
| Piece | Stage Quest |
| --- | --- |
| 1 | 121, 122, 123 |
| 2 | 124, 125, 126 |
| 3 | 127, 128, 129 |
| 4 | 130, 131, 132 |
| 5 | 133, 134, 135 |
| 6 | 136 |